I met Freddie Harris some years ago while doing one of my community development stories about a project in southwest Detroit. The piece was supposed to be about a building renovation and neighborhood revival project. But I found that the story about Freddie and his personal transformation was much more interesting.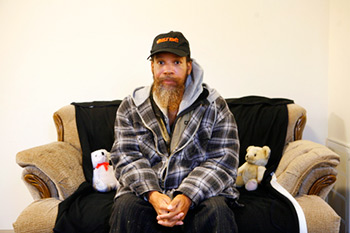 Freddie was homeless, literally living on the streets of Detroit when he crossed paths with Steve Palackdharry, spokesman for Southwest Solutions at the time. Steve is also a filmmaker, who discovered that Freddie too was an artist, which made their accidental pairing a bit remarkable.
Steve helped get Freddie off the streets and into a program at Southwest. Freddie was able to get counseling for the mental health issues that contributed to his homelessness, as well as other supportive services that gradually moved him toward stability. That transition included an apartment in a building that just so happened to house a small gallery, where the fledgling artist could show some of his drawings.
Freddie was self-taught and never had the benefit of much in the way of materials and supplies. Because of this, the tools of his craft became pencils, ballpoint pens and simple notebook paper, or any type of paper for that matter, including brown paper bags. But what he created was usually pretty special.
I learned a couple of days ago that Freddie passed away. He certainly left an impression on me, and I am suspect that I am not alone in that regard.
His tortures and talents were akin to the character from the film "A Beautiful Mind." I recall him telling me he would often have a mental image of patterns, shapes and designs, and they would flow from his mind to pen to paper. He turned out intricate abstracts and detailed portraits. He was soft-spoken, matter-of-fact, and engaging. His work was much the same.
May you rest in peace, Freddie.